Skilled Renovations in Bloomfield, CT
Bloomfield, CT is a beautiful town with a rich history, a wide variety of attractions and recreational activities, and a community dedicated to preserving the beauty and history of the area while looking towards the future. If you live in Bloomfield, you're part of a diverse, ever-evolving community that celebrates both unity and independence – and you deserve a home that's as unique as you are.
If you're thinking about remodeling your Bloomfield home, you want to work with a contractor you can trust. At Village Building & Restoration, we've got over 40 years of experience in the construction industry, and have been specializing in bathroom and kitchen renovations since 1995. We can help you with numerous projects, depending on your needs; our goal is to help you bring your dreams to life. Whether you're considering a minor remodeling project or a major interior or exterior overhaul, Village Building & Restoration is here for you.
Beautiful Bathroom Remodel
The first picture on this page is of a gorgeous bathroom renovation we handled for one of our repeat clients. They wanted to update their space, giving it more storage space and a more cohesive theme. We installed cherry cabinets with a his-and-hers middle cabinet; the doors hinged in the center, providing easy access for each side. We also installed the beautiful granite countertops and vessel sinks you see here, in colors complementary to the cherry. What you can't see in this photo is the whirlpool tub we installed for this client as well.
Complete Basement Renovation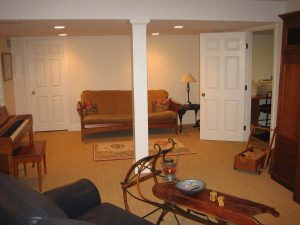 This same client was so pleased with the work we did in their bathroom that they invited us back to help them transform their basement. The original space was completely unfinished before the renovation, so we worked with the client to make sure it accommodated their needs. We partitioned off the basement into a sitting are and a home office, so that the client could both work and entertain as needed. The column is actually hiding a support pillar; we incorporated it into the overall design. The client was delighted with both of the remodeling projects we handled.
Your Team of Contractors
At Village Building & Restoration, we're here for you. Since 1974, we've worked hard to streamline our building process, so that it's as easy and stress-free for you as possible. We only work with trusted suppliers and thoroughly vetted subcontractors, so that we can be sure your home remodeling project will be done right the first time. Plus, our owner is on-site for every job, so that your questions can be answered quickly and correctly.
If you're considering remodeling your Bloomfield home and want to work with a skilled team that has your best interests in mind, schedule your consultation with Jim at Village Building & Restoration today. Let us bring your dreams to life!